Good Price Drilling Tool Cleanup Bucket
Product Detail
Product Tags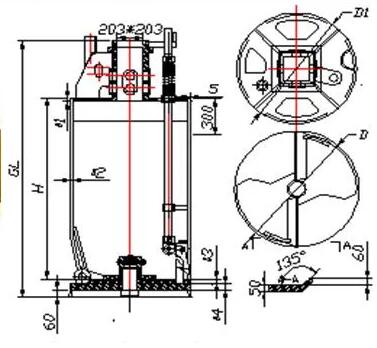 - Kelly box size optional (130×130/150×150/200×200mm, etc.)
- Drilling diameter is up to 5000mm
- Match up with most rotary drilling rigs in the market, including Bauer, IMT, Soilmec, Casagrande, Mait, XCMG, and so on.
- High-quality double bottom double cut cleanup bucket/ single bottom single cut cleanup bucket, etc. available.
You can choose the cleaning bucket with:
(1) Single bottom or Double bottom;
(2) Single cut or Double cut;
(3) Cylindrical barrel or Conical barrel.
OD

D

Height

Bucket height

Upper plate

thickness

Shell Thickness

Base plate thickness

Cutting plate thickness

Weight

D(mm)

D1(mm)

GL(mm)

H(mm)

δ1(mm)

δ2(mm)

δ3(mm)

δ4(mm)

Kg

600

540

1830

1200

20

16

40

50

780

700

640

1830

1200

20

16

40

50

900

800

740

1830

1200

20

16

40

50

1040

900

800

1830

1200

20

16

40

50

1180

1000

900

1830

1200

20

16

40

50

1310

1100

1000

1830

1200

20

16

40

50

1450

1200

1100

1830

1200

20

16

40

50

1650

1300

1200

1830

1200

20

16

40

50

1810

1400

1300

1830

1200

20

16

40

50

1920

1500

1400

1830

1200

20

16

40

50

2190

1600

1500

1830

1200

20

16

40

50

2420

1700

1600

1830

1200

20

16

40

50

2680

1800

1700

1630

1000

20

20

50

50

3120

1900

1800

1430

800

20

20

50

50

3320

2000

1900

1430

800

20

20

50

50

3630

2100

2000

1430

800

25

20

50

50

3920

2200

2100

1430

800

25

20

50

50

4420

2500

2400

1430

800

25

20

40

(Box-shape frame)

40

(Box-shape frame)

57

00